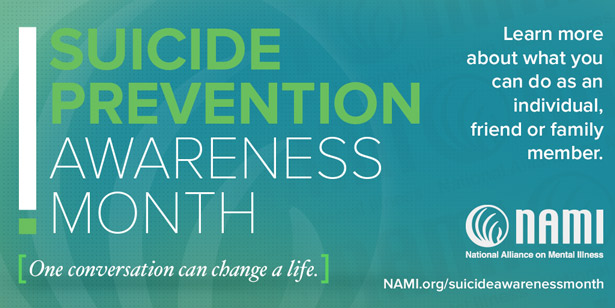 As someone who has struggle with suicidal thoughts all my life, this post will be written from the perspective of what I think people could do to help me, when I'm having more intense suicidal thoughts or ideation.
It depends on the intensity of the thoughts or ideas.  If I am having very minor thoughts like "Oh I wish I was dead,"  "things would be easier if I was dead" or similar thoughts that are low on the spectrum I don't say anything and usually even if asked by mental health professionals I would say I was not suicidal.  When I'm have these minor thoughts, no one needs to step in and help with prevention and I've learned that it's just how I operate.
As the intensity gets stronger and I begin to daydream about death or suicide, start researching methods and does of medications of stuff, and am trying to rationalize it with pros and cons list is when I need help.  At this stage all I really need is a conversation.  Like the image says above "One conversation can change a life."  But no one wants to have a conversation about suicide, especially if the person (me) may be arguing why they should be able to.  However, I think it's super important to talk about it when it gets to a stage that I'm more likely to make an attempt.  If I keep it all inside it runs away with itself and no one is there to tell me different.
How to have the conversation:  Tell them how important you are to them.  Mention times in the past where things have been crappy to but they made it through.  Remind them of some good fun times you've had.  Listen!  Listen!  Listen! Don't try to make them feel guilty for having the thoughts or what would happen if they did commit suicide.  Validate their feelings, an example is "I can see how strongly you're considering this, things must be real crappy to consider this."  Ask them how you can help, and if you can do those things do them!  Ask them how serious they are and if someone else needs to be involved like a therapist or hospitalization.  Tell them you are by their side and then prove it.  Check up with them later see if the feelings and thoughts have gotten better.  Ask them if they found a way to cope better.  It's always okay to ask even months later, "Hey remember when you were having that real hard time and considering suicide, how are things now?"  Ask open ended questions that let the person express what they are feeling or thinking.  If you are noticing it is beyond what you can handle say this and offer other resources.   These other resources could be: crisis hotlines, suicide hotlines, talking with religious leader, talking to a therapist/psychiatrist, going to the emergency room.   These are all USA based, if you live somewhere else I'm sure you can search the internet and find resources near you.
Crisis Phone Numbers and Websites:
National Suicide Hotlines in the USA- 24 hours a day/7 days a week- Toll Free
1-800-SUICIDE (1-800-784-2433) or 1-800-273-TALK (1-800-273-8255)
The Trevor Project- Crisis Intervention and Suicide Prevention for LGBT Youth- Free- 24 hours a day/7 days a week
1-866-488-7386
Trans Lifeline- Transgender Suicide hotline
1-877-565-8860
Crisis Text Support Line
741741
Local Emergency Services
Call 911 or go to local emergency room
You can also search online for crisis services that may have information on your specific state, chat crisis if you do not use the phone, deaf service phone numbers, and other resources.
American Association of Suicidology  www.suicidology.org (also provides listings of state-by-state suicide crisis lines).
What not to do:
Assume that if they are talking about it, they aren't really serious.  Laugh it off.  Tell them about how lucky they are to be alive.  Guilt trip them.  Gossip about this with other people, the only time you should repeat parts of this conversation if more support is needed like a therapist, crisis line, or emergency room visit.  Dare them to do it, or say you don't think they'd ever do anything like that.  Tell them they are being selfish.  Tell them that people who commit suicide go to hell.